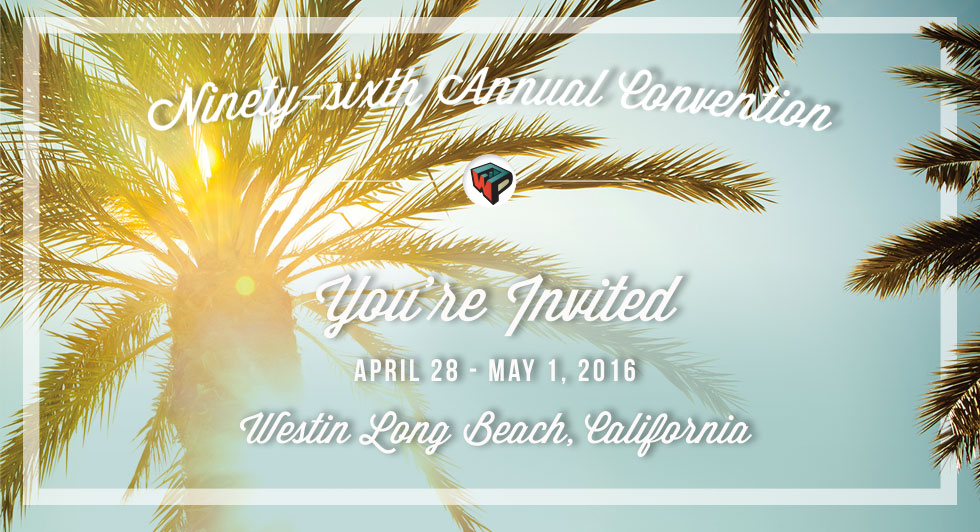 Ninety-Sixth Annual Convention
April 28 – May 1, 2016
Westin Long Beach | Long Beach, California
Hosted by

 Five reasons to go to the convention!
Over thirty distinguished speakers
Meet students and professors from other colleges who share your interests.
Visit with representatives of graduate programs, learn about new books from major publishers, and buy some great stuff from The Psych Store.
Attend special programs for students sponsored by Psi Chi, the International Honor Society in Psychology, and by Psi Beta.
Attend social events planned throughout the convention.
Important Registration News
WPA Convention Registration:
Important note: Everyone planning to attend the convention must register. Advance registration is open until March 31; you may register at the convention but the registration fees increase. Student convention registration now includes student affiliate membership in WPA. Students no longer need to fill out a membership form or decide if they wish to register as a member or non-member. Professionals still have the option to register as a member or non-member.
Primary presenters must register prior to the submission deadline (see the Call for Proposals). Early registration is open until March 31, 2016. Payment for early registration must also be completed by March 31. After March 31, on-site registration is available with increased fees.
CE credit will be available for selected sessions. Information on the 2015 CE sessions is be available in this flyer. CE Credit will be available for the Terman Conference.
Terman Teaching Conference:
The Terman Teaching Conference is a full day of lectures and workshops to enhance your teaching accomplishments. We invite psychology teachers from all levels to join us for a stimulating day of presentations.
Date: Wednesday, April 27, 2016.
Register: You may pre-register for the conference when you register for the convention, or you may pre-register separately by clicking here. The fee for pre-registration is $25 until March 31. Registration at the conference is $30.
Statistics Workshops:
A 2-hour statistics workshop will be held each day of the convention.  There is be no charge for the workshops thanks to support of APA Science Directorate. However, we ask you to register in advance so we can plan for handouts and attendance. The 2016 Statistics Workshop flyer will be available in February.
Dates: Thursday through Sunday
Thursday Time TBA PM
Friday 8:30-10:30 AM
Saturday 8:45-9:45 AM
Sunday 8:30-10:30 AM
WPA Film Festival:
The schedule of films and information on the films and distributors will be available in February.
Exhibiting and Advertising Information
All exhibit booths at the 2016 Long Beach convention have been reserved — no booths are available. We have started a waiting list — if you would like to be placed on the waiting list, send a request to Lorraine Grogan at grogan.wpa@gmail.com We will contact you if a space becomes available. Exhibit booths are available at the WPA convention. Booths are located in a large room along with poster sessions. There are 5-6 poster sessions each day. An information packet including pricing and a map of the exhibit area will be available soon. For more information, contact
You may support WPA with an advertisement in the WPA program booklet that every attendee receives. For more information, contact Chris Cozby at cozby.wpa@gmail.com.
2016 Convention Program Details and Convention App
We will be updating this information in January as we get closer to the convention:
This year we have a free convention app that will have all convention sessions lasted by day and by topic "track." You can also build a personal schedule using the app. An information sheet can be downloaded here. The link to download the app is eventmobi.com/wpa2015. You do not need to visit the app store to obtain the app — you can download it to any smartphone, tablet, or computer.
A PDF listing of all the convention sessions may be viewed or downloaded at this Schedule 2015 link. We will still have a printed program at the convention but the Schedule 2015 provides more detailed information.
We recommend using the convention app. It is the most current guide to the convention as it is updated to reflect any changes that occur.
Important Links:
Check back often for more information!